JDM Mini Trucks Sold by Unique Vehicles
Two RHD Mitsubishi Minicab sold
Just sold two RHD Mitsubishi Mini Trucks 4X4 1994 and 1996 models today March 18, 2021 from our yard located at Livingston, Nj 07039. Unique Vehicles have been constantly importing RHD vehicles from Japan and selling locally in USA.
Unique Vehicles only deal in top quality and reliable vehicles and that is main reason why we have satisfied clients across US.
These two Mitsubishi Mini Trucks sold today are 1994 and 1996 models with low mileage both 4X4 and very clean bodies, no rust at all. The clients who purchased really liked them and very happy to have them.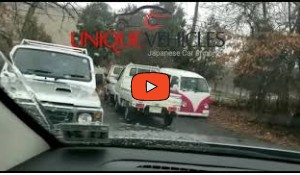 In order to buy JDM vehicles from Unique Vehicles, please
Call:
(973) 303 9267
WhatsApp
(973) 789 1733
eMail:
[email protected]
Or Visit our website:
www.uniquevehiclesnj.com